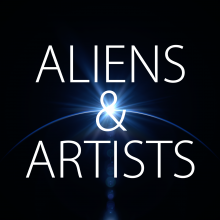 http://www.phrontistery.info/g.html
Song:
Hi Friends,
Stuart here with some updates. I hope this finds you and your loved ones well in these challenging times.
We launched a new podcast, Aliens & Artists. It's a show devoted to exploring how contact with non-human entities impacts human creativity. There are several episodes up now on iTunes and all the other platforms. You can also just listen to episodes on the web site, just go to AliensAndArtists.com and hit play. All episodes will appear first on my Patreon, as well as lots of exclusives and extras. There will be new episodes every week for at least the next year or so. We're in it for the long haul.
I'll be on Coast to Coast with George Knapp on June 21st from 10pm to 12am discussing the new show as well as other things such as my recent essay ET Presence & Forfeiture of Human Sovereignty.
I continue to offer one-on-one sessions around creativity, spirituality, and Death doula work. They are available to any Patrons at the $100 / month level, and typically run 60-90 minutes.
One nice shift during quarantine has been that I've been painting more. You can see some of the new paintings here and here. If you'd like to commission one email me and we'll make it happen.
Sending you all the best, Cosmic hugs-
Stuart