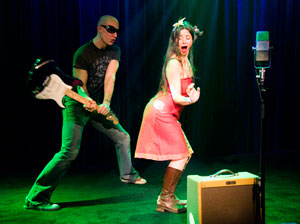 Stuart Davis has a happily hyphenated life: Writer-Director-Actor-Comedian-Songwriter. He does not sculpt, he is an awful dancer.
His first TV series Sex, God, Rock 'n Roll featured a blend of sketches, edgy comedy, and news about showbiz. It aired from 2009-2012. The show got its break when Mark Cuban put it on AXS TV / HDNet. Davis is making a new TV series in 2016 with the London-based company Conscious2. The show is a reality series about the Davis family (no title yet).
He wrote and directed the film Just Be Yourself, starring Kandyse McClure, Allison Macatee, and Sebastian Siegel. It toured film festivals, and is now available online : https://vimeo.com/ondemand/justbeyourself.
The film Walk of Shame included new original songs by Davis, and marked his big screen acting debut along side Elizabeth Banks.
He is currently mid-way through season one of Art Party, a video and audio podcast featuring music, story-telling, poetry, comedy, and interviews about art. It will be batch-released later this year.
Stuart is headed back in the studio this summer to record his 17th album, and his label (SDM) will soon announce its first-ever signing of another artist, an amazing songwriter Davis met while living in Amsterdam for two years.
Razor-sharp improv. Lurking amid the minutiae of his observations on life and the Universe are some startling insights. Davis pulls off the most elusive of party tricks...Even the gods were grinning. - Irish Times, Dublin Ireland
Without exaggeration, Stuart Davis is one of the most fascinating and exceptional songwriters in modern music. - San Jose Metro