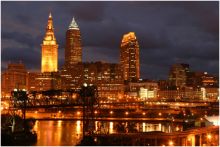 Yes, we know Cleveland Rocks - (but only in the original Ian Hunter version, not the other ones).
But what else?
We KNOW Ohio has such a flare for spectacle that the Cuyahoga River caught on fire. A river on fire! Now that's non-dual. It must have been beautiful.
Thanks to Randy Newman, we know that, and we know what Dayton felt like in 1903.
Admittedly, I do not have any songs about Ohio... YET. I intend to correct this oversight. In fact, after this week of shows in Ohio, I wouldn't be surprised if I write an ALBUM about Ohio. I will name names, and invent half-truths and total lies (that's art for ya'- lies telling truths). I aim to start and end relationships on this leg of the tour. There will be drama.
We know Ohio has numerous bizarre laws, and I can promise you, I will BREAK THEM ALL. Prosecute me?
We know in Ohio it's illegal get a fish drunk. What's that? That's me, with a bottle of Vodka in one hand and a live Salmon in the other, and one of us - no, BOTH of us, are getting hammered in Ohio. Bring it on, coppers!
We know breast feeding is illegal in Ohio. Well, I'm lactating, and I will feed my drunk Salmon from my exposed bosom on the steps of the capital, and I challenge the Police to stop me.
How will I get away with all this? Simple. I will do it on Sunday. In Ohio, it is illegal to arrest anyone -even an artist- on Sunday. That's my fun day. I don't have-to-run-day.
These are my first-ever shows in Ohio. Dayton (Pow!), Athens (Blam!), and Cleveland (Zammo!) It's going to be exuberant and jubilant.
If you don't live in Ohio, move there. If you don't have friends in Ohio you will. Let's set a River on fire with the Light of our numinous mayhem, join me, and you just might end up a character in an epic Ohio anthem...
By the way, we're shooting a new music video next week, directed by Joe LaMattina. It's for They're Already Here, the second single to the new album Music for Mortals. You can buy it on iTunes.
Don't forget Twitter yadda yadda and Facebook so forth and so on.
Oct 4th - Dayton, OH
Oct 5th - Athens , OH
Oct 6th - Cleveland, OH
Oct 12th - St Louis, MO
Oct 13th - Kansas City, MO
Oct 17th - Richmond, VA
Oct 18th - Charlottesville, VA
Oct 19th - Columbia, SC
Oct 20th - Asheville, NC
Oct 21st - Knoxville, TN
Oct 26th - New Orleans, LA
Nov 2nd - Boston, MA
Nov 3rd - Rochester, NY
Nov 8th - Corvallis, OR
Nov 9th - Portland, OR
Nov 9th - Eugene, OR
Nov 11th - Olympia, WA
Nov 29th - Milwaukee, WI
Nov 30th - Madison, WI
Dec 1st - Rockford, IL
Dec 2nd - Chicago, IL
Dec 5th - Iowa City, IA
Dec 8th - Des Moines, IA
Radio stations playing the first single from Music for Mortals- Beautiful Place, show 'em some love!
91.9FM KUWR Laramie WY
99.3 FM WXRY Columbia SC
91.5 FM WFBK Charlotte NC
97.3 FM KSPN Aspen CO
104.1 FM KFMU Steamboat Springs CO
93 FM KYSL Breckenridge CO
90.9 FM KVNF Paonia / Grand Junction CO
106.1 FM The Corner WCNR Charlottesville VA
91.9 FM WNRN State-wide in VA
96.5 FM WCTG Chincoteague VA
104 FM KDBB St Louis MO
91.1 FM WGCS The Globe South Bend, IN
106.7 FM KZMU Moab UT
91.9 FM KPCW Park City UT
99.9 FM WERU Bangor ME
91.1 FM WHFC Bel Air MD
92 FM KXRA Alexandria MN
103.3 FM KUMD Duluth MN
96.7 FM KKRM Montevideo MN
91.7 FM KAXE Brainerd & Grand Rapids MN
101.9 FM KINK Portland OR
91.9 FM KRVM Eugene OR
100.5 FM KDEC Decorah IA
89.1 FM WBSD Burlingont WI
106.9 FM WLGE The Lodge Door County WI
91.7 FM WMSE Milwaukee WI
89.9 FM KUNM Albuquerque NM
98.1 FM KABC Santa Fe NM
91.3 FM WOUB Athens OH
90.9 FM KSLU Hammond LA
95.7 FM KROK Derrider LA
91.1 FM WMSV Jackson MS
99.1 FM KFMG Des Moines IA
90.9 FM KUNI (statewide) IA
106.1 FM The Path WQTL Tallahassee FL
i105.3 FM WFIV Knoxville TN
90.3 FM KNBA Anchorage AK
105.7 FM WVIA Scranton PA
102.3 FM WDMT Scranton PA
97.9 FM WZXP Bristol VT
91.3 FM WYSO Dayton OH
88.7 FM WJCU Cleveland OH
98.1 FM The Ocean WOCM Ocean City MD