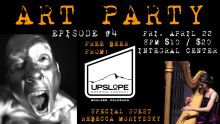 Hi Friends,
Stuart here with a quick update and a new video to share.
Recently I rolled out a new series called Art Party, which is a unique video / audio style podcast featuring monologues, sketches, unusual musical guests, authors, and deep explorations of Art. We recorded six hour-long episodes in Boulder over the course of six months, and I've been meaning to start sharing it. To get us started, here is a segment called Is There Art After Death? It's from episode six (I'm no slave to sequence), which also featured guests Jeffrey Kripal and Jasmine Karimova. It was a stellar show, from a great season, and I'm excited to start putting more of it up. Tell your friends.
Watch Is There Art After Death? here.
As with everything, I always share stuff with my Patrons first, and lots of material goes up on my Patreon page that appears no where else at all. If you want to help support the art, the artist, and get truly exclusive stuff, become a Patron. Thanks a ton for your support !
Stuart