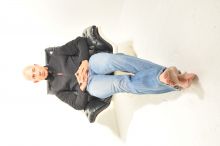 Mechanolater (mek-a-NOL-a-ter)
Your definition:
One who overestimates the importance of machines; worshiper of machines
http://www.talktalk.co.uk/reference/dictionaries/difficultwords/data/d0008078.html
Song:
Hello All-
Stuart here.
First, thanks to all of you who came out to the show in NYC. Amazing. What an historic club to play, The Bitter End, imbued with Bob Dylan, Joni Mitchell, James Taylor, and now... YOU. I had a truly wonderful time.
Next up- Seattle! I'm playing the Tractor Tavern on Monday (yes, I said Monday) April 30th. If you're in Portland, or Vancouver for that matter, come on down. One of the best clubs in the Pacific Northwest, The Tractor Tavern is a magic place.
In other exciting news, I'll be on Coast to Coast AM Wednesday, May 2nd for about an hour with George Noory. If you'd like to listen to the interview (which will also feature songs from my new album Music for Mortals and other fun surprises) here is a map of stations, just click on your state. It's on 560 stations in North America. I think I'm on at 10pm but check their web site the day of the show for precise times in your area.
On May 5th I'll be at The Tin Angel in Philadelphia. Come on East Coasters! My first time in that town in like 15 years or more.
Last but not least, the European tour schedule is shaping up beautifully. I'll be performing this Sept / Oct in Germany, Austria, Switzerland, France, Netherlands, England, and Ireland. Then in the Summer of 2013 expect me all over Spain, Italy, and other new areas.
I have added shows in Los Angeles, Fargo, and Berkeley. Click below...
Upcoming Shows
Apr 30 - Seattle, WA / The Tractor Tavern
May 5 - Philadelphia, PA / The Tin Angel
May 18 - Chicago, IL / Uncommon Ground
May 19 - Rockford, IL / Kryptonite
Jun 7 - Hollywood, CA / Hotel Cafe
Jun 29 - Omaha, NE / Omaha Healing Arts
Jun 30 - Fargo, ND / Ecce Art + Yoga
Jul 6 - Duluth, MN / Beaners
Jul 14 - Iowa City, IA / Mill
Jul 20 - Madison, WI / Mother Fools
Jul 22 - Minneapolis, MN / Southern Theater
Aug 4 - Boulder, CO / Shine
Aug 24 - Estes Park, CO / Wake Up Festival
Aug 17 - Loveland, CO / Integral Community Seminar
Aug 31 - Berkeley, CA / Rudramandir
Oct 12 - Salt Lake City, UT / Boulder Mountain Zen Center