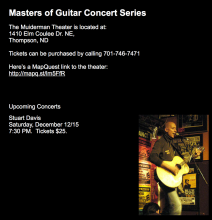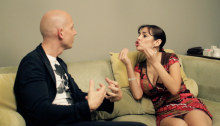 Song:
Stuart Davis Band, recorded live at the Mill
Hi Friends-
Stuart here, happy to announce I'll be performing in Fargo, ND on DECEMBER 12 at the amazing and gorgeous Muiderman Theater. This is one of the coolest places in the whole Midwest to see a show. Kevin Muiderman is the luthier who built my black 'crow' guitar which I've been using on tour and in studio since the Music For Mortals tour release - tour. It's an incredible work of art, I'm deeply in love with it, and performing a concert on it right where it was made is going to be very special. You can get tickets to the show HERE.
I didn't tour or perform for the two years I was living in Holland, and although I am doing some shows again, my touring schedule is likely to remain sparse. I really recommend coming out to to this gig, even if it means making the drive from surrounding areas, etc.
I will be doing concerts in London, England and Zurich, Switzerland in the first week of February, so if you're in Europe make some plans. The London gig will be Friday or Saturday February 5th or 6th, and Zurich show will be at Wanderlust which is a gorgeous venue. The Zurich gig will be really fun and unique as the venue will also be screening Just Be Yourself, the short comedy film I wrote and directed. It's making it's European debut! I will do a Q&A after the movie, then a concert. It's also my first time performing in Zurich, which will be a blast.
Here's the TRAILER to Just Be Yourself and you can now also rent the FULL MOVIE on Vimeo.
Season Two, EPISODE SIX of Sex, God, Rock 'n Roll is now up on YouTube. In this episode Peruvian goddess Mariann Gavelo teaches me all the Spanish I'll need to know for a trip to Peru. Kandyse McClure shows us how to make a hilarious new Rocktail- a 'Roadie'. And dreading that oft reported end-of- life-review that happens at death, I decide to go through a pre-emptive life review while I'm still alive. Plus... all the news that's fit to pimp.
Remember you can watch all of Season One and Season Two of Sex, God, Rock 'n Roll on YouTube for free.
We have a great Christmas sale going on, only $5 for Stuart Davis CDs, and great deals on large-sized giclée prints of my crow paintings in the constructed language IS.
Check 'em out.
Last but not least, I hope you'll support my PATREON page. Patrons get lots of exclusive videos, writing, and music from me, some of which is never seen or heard anywhere else, and is not publicly released.
Hope you're all well, and I will see you at the races-
Stuart