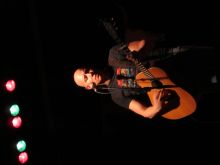 http://www.merriam-webster.com/dictionary/corybantic
Song:
Hi All-
I will be performing at Hotel Cafe in L.A. this Thursday, June 7th. Hollywood.
To your questions.
Yes, some of you will be getting movie deals after the show, at the merch table. Certain members of the audience will get leads in TV series. Not all, but some. If you don't get a TV lead, don't worry, because after the gig we are marching down to the Capital Records and I can promise you a record deal will be signed before midnight. Not my deal. I already have a deal. YOU may get a record deal... if you come to my Hotel Cafe performance.
What else can you expect at this exclusive Hollywood concert?
You will probably be sandwiched between Selma Hayek and Nicole Kidman- I apologize for that. It's a small venue. If you are served drinks by Alan Alda, or Martin Landau, remember they are NEW to this. Please be patient as they try and remember whether it's knife on the left and fork on the right, or...
If you think I'm going to reference "hookers and blow" here, or some tired nod to conventional debauchery - you're wrong. Not tonight, folks, not THIS show. This show? This after party? Think 'Mulholland Drive' meets 'L.A. Story'. Think 'Swingers' meets 'The Big Lebowski'. You will understand Robert Downey JR's character in 'Less Than Zero' before the Sun comes up, or you get a full refund. Oh wait, I spent all our money on wigs and Penicillin.
And I think you'll agree... it was worth it.
Have you seen this video to Beautiful Place from Season 2 of SGRR?
I can't wait to cartwheels with you down Sunset Boulevard at 2am with streamers billowing from our every limb.
Other upcoming shows are listed below, and will be described soon.
Kosmic hugs-
Stuart
Jun 7th - Los Angeles, CA
Jun 29th - Omaha, NE
Jun 30th - Fargo, ND
Jul 6th - Duluth, MN
Jul 14th - Iowa City, IA
Jul 20th - Madison, WI
Jul 22nd - Minneapolis, MN
Aug 4th - Boulder, CO
Aug 17th - Loveland, CO
Aug 22nd - Fort Collins, CO
Aug 24th - Estes Park, CO
Aug 31st - Berkeley, CA
Sep 1st - Santa Cruz, CA
Sep 8th - Austin, TX
Oct 12th - Salt Lake City, UT
Nov 2nd - Boston, MA