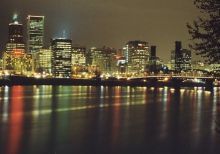 Madison, Minneapolis, Portland.
This week of the tour it's all about gorgeous cities with incredible bodies. Of water. This is the kind of routing that proves we should buy a canoe. As an ornament for our huge SAILBOAT, which we will use to explore the rivers, lakes, and oceans of our upcoming concert dates.
This Friday I'll be in Madison. And after the show, it's assured someone will offer up their yacht, or schooner, or whatever they float around that big lake by the University in. It will be hot, hot enough to skinny dip. And in the morning, we will enact the lyrics from Atavistic Viking.
Then on Sunday I'm playing Minneapolis. My old home town. My stompin' grounds! I remember back in the day when I was a student at the U of M, the river would freeze, and we would don hand-crafted Dutch speed skates, and glide our way into local lore. I won the two mile river skate my Junior year, and went on to be one of the most successful Olympians to never compete. I didn't talk about this with Diana Pierce in my recent KARE 11 appearance, but the room was pregnant with that un-asked question. Sometimes what's left unsaid is the most...
On Wednesday of next week I head to Portland, and so Oregon. I'll be in-studio on KINK FM, as well as doing an insanely fun CD release concert at The Mt Tabor Theater. I will be offering a special "buy one get one" on the new CD. Portland, Oregon is close to the Ocean, but not so close you'll just fall in. You'll have to be pushed.
Bring your pals let's have some fun!
Tour Dates:
July 18th - NBC KARE 11 (Television)
July 19th - Burlington, WI
Jul 20th - Madison, WI
Jul 22nd - Minneapolis, MN
July 25th - KINK FM Bing Lounge Portland, OR (Radio)
July 27 - Portland, OR
Jul 28th - Portland, OR (In-Store)
Aug 4th - Boulder, CO
Aug 17th - Loveland, CO
Aug 22nd - Fort Collins, CO
Aug 24th - Estes Park, CO
Aug 31st - Berkeley, CA
Sep 1st - Santa Cruz, CA
Sep 7th - Santa Fe, NM
Sep 14th - Fargo, ND
Sep 15th - Thompson, ND
Sept 21st - JBTV / NBC Non-Stop Network (Television)
Sept 22nd - Rockford, IL
Sep 24th - Boulder, CO
Oct 20th - Madrid SPAIN (EU Tour)
Nov 2nd - Boston, MA
Nov 8th - Corvallis, OR
Nov 9th - Eugene, OR
Dec 2nd - Chicago, IL
Radio stations playing the new single from Music for Mortals- Beautiful Place, show 'em some love!
97.3 FM KSPN Aspen CO
104.1 FM KFMU Steamboat Springs CO
93 FM KYSL Breckenridge CO
90.9 FM KVNF Paonia / Grand Junction CO
91.9 FM WNRN State-wide in VA
96.5 FM WCTG Chincoteague VA
104 FM KDBB St Louis MO
91.1 FM WGCS The Globe South Bend, IN
106.7 FM KZMU Moab UT
91.9 FM KPCW Park City UT
99.9 FM WERU Bangor ME
91.1 FM WHFC Bel Air MD
92 FM KXRA Alexandria MN
103.3 FM KUMD Duluth MN
96.7 FM KKRM Montevideo MN
91.7 FM KAXE Brainerd & Grand Rapids MN
101.9 FM KINK Portland OR
91.9 FM KRVM Eugene OR
100.5 FM KDEC Decorah IA
89.1 FM WBSD Burlingont WI
106.9 FM WLGE The Lodge Door County WI
91.7 FM WMSE Milwaukee WI
89.9 FM KUNM Albuquerque NM
98.1 FM KABC Santa Fe NM
91.3 FM WOUB Athens OH
90.9 FM KSLU Hammond LA
95.7 FM KROK Derrider LA
99.1 FM KFMG Des Moines IA
90.9 FM KUNI (statewide) IA
106.1 FM The Path WQTL Tallahassee FL
i105.3 FM WFIV Knoxville TN
90.3 FM KNBA Anchorage AK
105.7 FM WVIA Scranton PA
102.3 FM WDMT Scranton PA
97.9 FM WZXP Bristol VT
91.3 FM WYSO Dayton OH
88.7 FM WJCU Cleveland OH
98.1 FM The Ocean WOCM Ocean City NJ