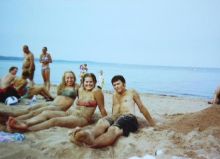 Hi Northern Friends,
I'll be in-studio performing on KUMD 103.3 FM in Duluth Friday July 6. You can listen live from anywhere in the World, not just the great lakes. Even lesser lakes, or the utterly lake-less, can tune in via the net if you're not in Duluth.
Then I'll be playing at Beaners in Duluth that same night, July 6. Hope you can make it! It's been too long. I smile at the thought. Plus, Duluth needs our love. Let's un-flood the water and submerge the town in Light.
After the show we're all going down to Park Point to skinny dip and make sand castles and beach fires of driftwood and sage. We will ride ponies bare-back under the mantle of the moon and loan each other our ponchos and cigarettes and we'll find rare coins in the water and lightening bugs on our bed rolls.
Hugs,
Stuart