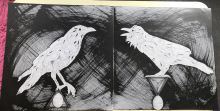 Your definition:
Keeping safe and healthy; preserving from danger
http://www.phrontistery.info/clw4.html
Song:
Hi Friends,
Hope this findsy you well in the midst of our intense collective odyssey. Wanted to send this note as a hello and an update, as it's been a while.
We spent much of 2019 making a TV pilot for The Clones. We were just starting to shop it as the virus went pandemic, and as with most things in the World, how this will shake out in the entertaiment realm remains to be seen. You can however, watch the full pilot on my Patreon page.
Me and family are in full quarantine, and have generally been using the time to make art. For your pleasure (hopefully) here is a new song / video I just released called Creature Flinch .
I've also been working on a number of new Crow painting commissions in the IS language. You can see a short video unveiling a couple new ones here I customize these paintings, writing a new poem in IS specifically informed / inspired by our conversation around your life and story. When your painting is done, it comes with the poem which has been encrypted into the body of the crow, a rough English translation, an extract of each word in the poem from the IS lexicon defined by altitude, and a recording of me reading your poem in IS. Just email me at stuart @ stuartdavis.com if you'd like to commission an original.
I'm also still doing one-on-one sessions via Zoom / Skype / FaceTime on creativity, spirituality, meditation, and art as a mystical path. The quarantine has been an unexpected boon for many in the inner realms that Something-from-Nothing calls home. Just sign up on my Patreon at $100 a month (cancel any time) and you get an hour long one-on-one session each month, diving into whatever you'd like to focus on.
Sending you all Cosmic hugs, and gratitude for your presence here on Earth,
Stuart