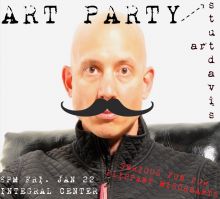 FOR IMMEDIATE RELEASE
Stuart Davis Launches New Podcast 'ART PARTY'
WHAT: ART PARTY, new variety podcast by Stuart Davis
WHERE: 2805 Broadway, Boulder, CO 80304 http://integralcenter.org
WHEN: Friday, January 22, 2016 8PM
WHY: Fun. Entertainment.
WHO: Stuart Davis and guests
HOW: Tickets available by calling (303) 834-7784
Friday, January 22, 2016 the new series ART PARTY debuts at Integral Center in Boulder. Written and hosted by Stuart Davis, the show is a variety-format podcast, recorded before a live studio audience, featuring original comedy, story-telling, sketches, music, and interviews with artists.
Season One will record monthly from January through June of 2016. Seating is very limited, tickets are $25. Each episode of Art Party will run about an hour with segments ranging from short sketches to in-depth stories.
Davis previously created The Stuart Davis Show, an internet series in which he played identical clones at war with each other. It was produced by philosopher Ken Wilber's Integral Naked. He went on to write and host the national TV series Sex, God, Rock 'n Roll, which aired on AXS TV / HDNet from 2009 - 2012. Davis' film Just Be Yourself has been touring the film festival circuit for years. He recently returned to the US after two years living in Holland, and is now rolling out new projects in the US, including Art Party.
Season One of Art Party will be recorded at Integral Center on:
Episode One: Friday, January 22 8PM
Episode Two: Friday, February 26 8PM
Episode Three: Friday, March 25 8PM
Episode Four: Friday, April 22 8PM
Episode Five: Friday, May 20 8PM
Episode Six: Friday, June 24 8PM
More info : http://integralcenter.org www.stuartdavis.com
"Razor-sharp improv. Lurking amid the minutiae of his observations on life and the Universe are some startling insights. Davis pulls off the most elusive of party tricks...Even the gods were grinning." - Irish Times, Dublin Ireland
"A rare genius. Whatever you do, don't miss his work or his performances." -Ken Wilber