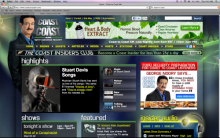 http://dictionary.reference.com/browse/noctilucous
Song:
Hi Friends,
Quick hello to let you know I'll be on Coast To Coast AM with George Noory on May 2nd for about an hour. We'll be discussing the new album, spirituality, and probably alien phenomena and the like. The show is syndicated to 560 stations so you should be able to find one in your area if you live in North America. If you miss it, I think they catalogue all shows on the site, so you'll be able to find it on there after the live broadcast airs as well.
Fun to be on this show, a real radio institution.
Also, I'll be in Philadelphia this weekend, May 5th at a GREAT venue - The Tin Angel. Hope to see my Pennsylvania friends, or if you know people in the area, send them on over.
Having a great tour, thanks to everyone for the amazing time in Seattle last weekend! Wow. You guys bought a lot of CDs!
Kosmic hugs- Stuart
Upcoming Shows:
May 5th - Philadelphia, PA The Tin Angel
May 18th - Chicago, IL Uncommon Ground
May 19th - Rockford, IL Kryptonite
Jun 7th - Los Angeles, CA Hotel Cafe
Jun 29th - Omaha, NE
Jun 30th - Fargo, ND Ecce Art
Jul 6th - Duluth, MN Beaners
Jul 14th - Iowa City, IA The Mill
Jul 20th - Madison, WI Mother Fools
Jul 22nd - Minneapolis , MN Southern Theater
Aug 4th - Boulder, CO Shine
Aug 17 - Loveland, CO Integral Community Event
Aug 22 - Fort Collins, CO Lucky Joe's
Aug 24th - Estes Park, CO Wake Up Festival
Aug 31st - Berkeley, CA Rudramandir
Oct 12th - Salt Lake City, UT Boulder Mountain Zen Center