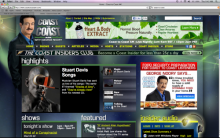 http://phrontistery.info/bearing.html
Song:
Hi Friends,
Stuart here, wanted to let you know I'll be in Chicago this weekend, Friday May 18th at Uncommon Ground (the one on Clark). If you haven't been, this is one of THE most amazing venues in Chicago, a completely intimate and perfect place for a show. Show is at 10pm, but if you come and eat dinner before you get your choice of seats secured, etc. I can't wait to be back in Chicago, it's been too long!
Also, while in Chicago I'm taping an episode of JB TV, a syndicated series out of Chicago that's on NBC, Comcast, and DirecTV. The episode will air sometime June or July, we'll let you know where to find it.
If you missed the Coast to Coast AM interview last week, you can listen here.
I am headed to dozens of other cities through this summer and fall, check 'em out below. I hope you are all well, sending you lots of light. Kosmic hugs-
Stuart
May 18th - Chicago, IL / Uncommon Ground
May 19th - Rockford, IL / Kryptonite
Jun 7th - Los Angeles, CA / Hotel Cafe
Jun 29th - Omaha, NE / Omaha Healing Arts Center
Jun 30th - Fargo, ND / Ecce
Jul 6th - Duluth, MN / Beaner's
Jul 14th - Iowa City, IA / The Mill
Jul 20th - Madison, WI / Mother Fool's
Jul 22nd - Minneapolis, MN / Southern Theater
Aug 4th - Boulder, CO / Shine
Aug 17th - Loveland, CO / The Dome
Aug 22nd - Fort Collins, CO / Lucky Joe's
Aug 24th - Estes Park, CO / Wake Up Festival
Aug 31st - Berkeley, CA / Rudramandir
Sep 1st - Santa Cruz, , CA / TBA
Sep 8th - Austin, TX / TBA
Oct 12th - Salt Lake City, UT / Boulder Mountain Zen
Nov 2nd - Boston, MA / Samadhi