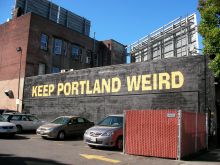 I don't know much, but I know I'm playing Portland, OR at the fabulous Tabor Theater Saturday, May 11.
I know as a direct result of attending this show you will have spontaneous recollection of past lives (spoiler: you were King/Queen in an ancient Dynasty, your benevolence and magnanimity diminished suffering and your people flourished).
I know that if you come, and bring friends, this tight-knit group will be consecrated by the neon lights, not unlike protagonists in a Jackson Browne song.
I know, in the course of this show, I will be scanning the audience, and -using remote viewing capacities cultivated in a black budget defense program- will reverse all medical maladies extent in attendees that evening. Everyone will leave cured of everything, although you will be at increased risk for bliss, or "Blissk" as I like to call it.
Finally, I know if you come, I will be moved to tears, and will curl up in the fetal position, convulsing in ecstatic reverie, wetting and soiling myself in utter abandon, never once feeling judged, ever and always transported in the exalted mutual joy that is, and will forever be THIS SHOW IN PORTLAND, Saturday May 11, Doors at 8pm.
Be there, or be a rhomboid.