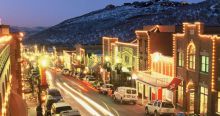 Paaarrrhhhhk SIH-TAY!
Yes, home to Sundance. Yes, Robert Redford will be at my show. Yes, he will buy you a drink prolly and prolly he'll get up on stage and do the backing vocals on Universe Communion. That's how it *feels* to me.
I am returning to Park City, this Friday, March 22nd at 412 Bistro. While I wouldn't say I'm back by popular demand, I wasn't run out of town last time either. So, let's call it a draw, and leave room for surprising magic to crash into us like an inebriated skier on a triple black diamond slope.
In other news, I am moving to Amsterdam as of September 1st. Nope, not joking. Really going. Will be living there for a full year. I will likely do some shows in the US in that year abroad, but it wouldn't be a terrible idea to catch me in the States now, as once I get abroad -provided I am not forcibly ejected back to my homeland by disgusted Europeans- I will mostly work in Europe from Sept 1 2013 to Sept 1 2014.
But hell, come to Europe! If they let me in, I'm sure you'll pass fine.
In other-other news, just did my first acting in a Hollywood film. The movie is Walk of Shame. I played *Solitary Jogger*. I think I brought an intensity to this small role that conveyed a certain maladroit sexual ambiguity. I got to work opposite Elizabeth Banks. It was insanely fun. Directed by Steve Brill, who also used my music in Drill Bit Taylor. I wrote some new songs for Walk of Shame, cross your fingers, maybe you'll hear them pumping from the big screen again. No release date yet, I'll let you know when I hear something.
I have had a blast on the tour so far, hope you and some friends come out to one of these upcoming gigs. And hey, after all that time being banned from Canada (three years!), I am finally returning. I may... get banned all over again.
Upcoming Shows:
Mar 22nd - Park City , UT / 412 Bistro
Apr 7th - San Francisco, CA / Hotel Utah
Apr 8th - Santa Cruz, CA / Crepe Place
Apr 12th - Minneapolis, MN / Bryant Lake Theater
Apr 13th - Duluth, MN / Beaner's Central
Apr 17th - Vancouver, BC / Electric Owl
Apr 19th - Seattle, WA / The Mix
May 10th - Eugene, OR / Diablos
May 11th - Portland, OR / Mt Tabor Theater
May 17th - Des Moines , IA / Vaudeville Mews
May 18th - Omaha, NE / Pizza Shoppe Collective
May 23rd - Austin, TX / Club De Ville
May 24th - Dallas, TX / Opening Bell
May 25th - Houston, TX / The Capital
May 31st - Paonia, CO / Blue Sage Arts
Jun 1st - Boulder, CO / Shine
Jun 7th - Pittsburgh, PA / Park House
Jun 8th - Cleveland, OH / Kennedy's Theater in Playhouse Square
Jun 13th - Ottawa, ON / Zaphods Beeblebrox
Jun 14th - Montreal, QB / Le Cagibi
Jun 27 - Madison, WI / Mother Fool's
Jun 28 - Chicago, IL / Uncommon Ground
Jun 29 - Iowa City, IA / The Mill
Sep 11 - London, UK / The Troubadour
Sep 21 - Edinburgh, SCT / Banneman's
Oct 3 - Berlin, GE / Hangar 49
Oct 19 - Frankfurt, GE / Spiritual Fall Academy