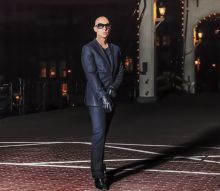 Your definition:
v 1656 -1658 to stop one's mouth
http://www.phrontistery.info/clw3.html
Song:
Stuart here with some updates.  
First, we are nearing completion of the new TV pilot for The Clones.  It's an ambitious update of the original concept.  I wrote this new version of The Clones while living in Holland. It tells the story of a mad genius, Exy Davis -played by Jasmine Karimova- who, decades ago genetically engineered three cloned boys to become the great, visionary artists of their generation.  Instead, they became a boy band, 'Boyz-2rous'.  Boyz-2rous became a one-hit-wonder with their smash hit song HmmBeep! Exy was so revulsed, she abandoned them and vanished from their lives. She's been living in a Windmill in Holland for 30-some years. The series begins with her luring her three cloned sons to Holland so she can destroy them once and for all. She has secretly conscripted their Ex-Manager to reunite them as 'Boyz-2rous'.  He puts them in therapy, just like when Metallica got a therapist in Some Kind of Monster. Their therapist is played by Allison McAtee. I play all three clones.  We have been filming on location in Colorado, Holland, and Los Angeles. The show is being backed by Integral Life, Guilty Humor Productions,, and Minneapublicity.  Really stellar team and cast.  The pilot will be done in December, and we will begin shopping it to networks in January. We are looking for one more investor to help fund post production and shopping costs. If being an executive producer on a TV series interests you, email me at stuart@stuartdavis.com 
As with everything, I will be sharing the new Clones with my Patrons on Patreon. For a long time I've been posting all kinds of rare and private stuff on there, from music, paintings, work in my constructed language, TV, film, pretty much whatever I'm working on I make it transparent to my Patrons. Have really found that connection to be fun and valuable.  I also offer one-on-one sessions for any patron at the $100 level, which are over an hour once a month. We work on whatever you want, it's usually art, spiritual practice, or creativity in general. The sessions can be remote, done over Zoom, Skype, etc.
I also offer Transpersonal Hypnotherapy sessions now, those are conducted in person and are about three hours in length. I received certification in 2019 from Transpersonal Hypnotherapy Institute and have found this work to be fascinating and profound. Email me at stuart@stuartdavis.com if interested.
Last but not least, my new album Temple Whore makes a great christmas gift. I mean, like, it's practically a Christmas album.
I hope you are all doing great. Sending you Cosmic hugs as per the yoozh - Stuart