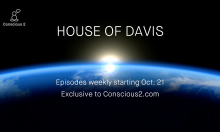 http://www.phrontistery.info/o.html
Song:
Hi Friends,
Stuart here, just wanted to share a TEASER from Episode One of House of Davis, which premiers on Monday! House of Davis is exclusively available on Conscious2. Conscious2 is an online subscription platform like Netflix, or Amazon. Check out their FREE TWO WEEK trial, and you can watch House of Davis, as well as other amazing series like How I Created A Cult, which follows one of America's most controversial gurus through the rise and collapse of his organization. Or check out Stephen's Big Awakening, a deep comedy about one man's odyssey to experience the extremes of spiritual seeking, from being injected with hallucinatory frog venom to surreal sacred orgasmic practices. Conscious2 is creating some of the most meaningful, edgy entertainment out there today, and I could not be more thrilled that House of Davis is one of their offerings. I really hope you'll go check out Conscious2 and House of Davis, and you can do it all for free, no-risk, for two full weeks. Can't lose.
Family is a puzzle we never solve, but living it leads us to a deeper life. Join us as we live the riddle of love. Here is a TEASER from Episode One of House of Davis, and I hope you'll join us for the debut of the full Ep on Monday, Oct 24 only on Conscious2.
Also, become a Patron on my Patreon page, and you will receive exclusive content from my work in music, film, and television. Always first, often totally unique material no one else will ever see.
Hope this finds you all well, Cosmic Hugs- Stuart