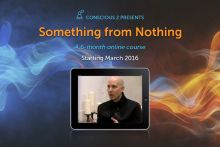 http://phrontistery.info/o.html
Song:
Hi friends, Stuart here.
Lots of fun stuff going on. This month I'm launching a six-month online course called Something from Nothing. It's a deep exploration into bringing a vision to life and claiming your place in the primordial creative lineage. You can watch the introductory live stream event for FREE HERE. If you want join us for the six month journey, you can get all the in-depth content by subscribing over at Conscious2. The six-month course also includes exclusive modules with philosopher Ken Wilber, founder of Sounds True, Tami Simon, and founder of Warp Films and Warp Records, Steve Beckett. These modules and many others are exclusive content we filmed as part of Something from Nothing, and each of these figures really brings something special to the topic. If you're looking to bring a creative vision to life, something significant enough to change how you value your time on the planet, I really recommend checking out Something from Nothing.
Here's a talk about this subject I did recently Brooke Macnamara and classical guitarist Paolo Oliveira
Also as well...
I'll be filming a new series this year. Remember the Stuart Davis family and the clones thing we shot years ago? Here it is if you have forgotten. That concept is being turned into a full series. Six episodes will be filmed in 2016, starting this spring. 30 Minute episodes, comedy. Can't wait to share those with the World.
Also, in addition, as well...
Thanks to everyone supporting my Patreon Page! I really appreciate it. If you haven't checked it out, please take a look. Every week I share exclusive new content, news, and all kinds of unreleased video, audio, and writing. It really makes a difference, and we'd love to build it even more.
That's it! Somersault prostrations to the Circus Deity !
Stuart