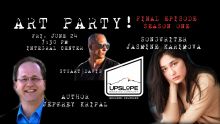 http://phrontistery.info/clw2.html
Song:
Hey Gang,
Stu here. FINAL ART PARTY of Season One is this Friday, June 24. Tickets HERE. Ending with some really amazing guests, Jeffrey Kripal and Jasmine Karimova.
I will be doing a couple rare shows this July
07/15/2016 - 8:00pm - The Mill in Iowa City
07/16/2016 7:00pm Vaudeville Mews in Des Moines.
I recommend making the trip to see these if you're in driving distance, because I'm not sure what the touring situation will be in the near future. However I am headed into the studio this summer recording a new band album. I'm also producing the debut album from a new artist I'll be sharing more news about soon. Really excited about it.
We're a few episodes in on production for our new TV series, tentatively titled House of Davis. It will be available through some online platforms this fall, possibly cable TV as well, but I won't know for sure on that for a while. We're still looking for an investor on that show if you're interested in getting into TV production stuff. Email me at stuart at stuartdavis.com if you've interest.
You can still join in on Something from Nothing, my six-month online course Something from Nothing, a deep dive into creativity. Each month you get hours of exclusive, unique content and direct interaction with me and other creators / artists taking the course. We've covered State Training, Shadow Work, and Claiming Your Place in the Primordial Lineage, and we're only half way done! Check it out, available only on Conscious2
Please support my PATREON page if you can. I regularly post lots of exclusive stuff there, videos, writing, new episodes of the TV series before anyone else in the World sees it.
Hope you're all well, sending big hugs-
Stuart