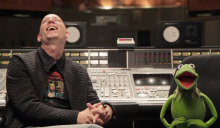 Greetings, diaphanous bipeds-
Stuart here with the weekly dose of fun new stuff.
First, I have a NEW SONG up, called EDEN. Give it a listen.
NEW: I'm announcing NAME YOUR OWN REWARD for my Patreon Page. When you become a Patron of my page at $25 or more a month, you can choose your own incentive! Who knows what your brilliant brains will cook up. Maybe you want me to leave the outgoing voice message on your phone? DONE. Perhaps you'd like me to send you a new album, hand-inscribed in my constructed language of IS each month, until you own every thing I've ever made? SURE. Maybe you'd prefer a large Gyclee print of my crow paintings, with a hand-written message to you. YES. It could be anything- hand-written lyrics to you favorite song, memorabilia from my previous tours and TV show episodes, even a private concert for you and your friends in your house. I've been into Patreon, every week I share new and exclusive things on the site. It's a private place, just for me and patrons, and I personally interact with everyone there. I would love to see it grow, and this is one way to spice it up. Patreon lets anyone become a patron of artists they'd like to support. Unlike Kickstarter or IndieGoGo, Patreon is ongoing. You always determine what you'd like to set as your monthly support. I really appreciate the supporters who've joined in, and look forward to more. So... check it out, and name your own reward.
And there's a new episode of Sex, God, Rock 'n Roll up. It's SEASON TWO, EPISODE TWO, and my guest is none other than Kermit the Frog. Really one of the cherished moments of my life, working with the enormous Cosmic soul in that little amphibian body. PLUS : Kandyse shows us how to make a new rocktail- a 'One Hit Wonder'. Mariann expands our vocabulary with a fun word for nude sunbathers, and all the news that's fit to pimp.
That's it. Happy Halloween and Cosmic hugs !
Stuart