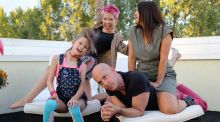 Your definition:
That which is to be circulated
http://www.phrontistery.info/clw1.html
Song:
Episode One of HOUSE OF DAVIS debuts TODAY ! You can watch it NOW by signing up for a FREE two-week trial of Conscious2 Super simple, no risk, and you will also be able to watch Episode Two when it comes out in one week, plus all the other amazing series on Conscious2.
House of Davis is a reality show for people who don't watch reality shows. Where traditional reality shows focus on demanding attention through shock and awe, House of Davis is a powerful antidote, capturing the viewer's heart by focusing on the best of what makes us human. House of Davis follows the Davis family, comprised of singer-songwriter Stuart Davis (46), child psychotherapist Marci (47), and their daughters Ara (12) and Aja (9) as they navigate love, death, sexuality, money, health difficulties, and the various challenges of family life with love, humor and an intoxicating sense of adventure.
I hope you'll join us, we've been having a blast making the series.
As always, become a Patron on my Patreon page and receive exclusive content before anyone else, as well as rare stuff that no one else will ever see.
Cosmic hugs- Stuart