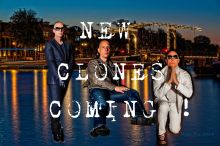 Hi Friends,
Stuart here. Quick burst of news.
There is a new season of The Clones coming. Recently I signed a development deal with Guilty Humor Productions, and long story short I'm happy to announce next month we begin filming new episodes of The Clones. There will be six episodes in this new series. We will then shop the show to various networks etc, and who knows? Either way you will be watching new Clones in a few months. Pretty exciting.
Also, my new album Temple Whore is out everywhere.
Also-Also, I have been sharing a mountain of exclusive and rare music, TV, film, and painting work on Patreon. I post there all the time, and it's almost always stuff that is rare, unreleased, or private. It is a very special palce, and I encourage you to join us there. I also offer monthly one-on-one sessions focusing on creativity and spirituality for Patrons at $100 or more.
Last but not least, early in 2019 I got certified as a Transpersonal Hypnotherapist. I first became fascinated with this work through my friendship with John Mack (head of Psychiatry at Harvard). I felt inspired to complete certification so I can engage healing work with the deeper registers of being using a fascinating set of methods.
I have begun to see a few clients. My focus is on past-life and between-lives regression. I am also a certified End-of-Life-Doula, and that work, as well as my back ground in Integral Spirituality, art, and Zen, all intersect beautifully with Transpersonal Hypnotherapy..
Sessions run around 3 hours and are conducted at my studio in Prospect. I have openings for a few sessions on June 24, 25, 26, 27, 28, and 29. If you're interested email me at stuart@stuartdavis.com. Sessions are $250 and can be recorded if you wish.
Hope you all are well, sending Cosmic hugs-
Stuart