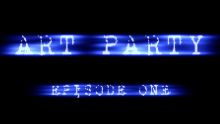 https://translate.google.com/translate?hl=en&sl=nl&u=https://nl.wikipedia.org/wiki/Kunstenaar&prev=search
Song:
Hi Friends !
Stuart here with an update on my new podcast ART PARTY, which debuts Friday, January 22 in Boulder. You can now join us for the live recording from anywhere in the World by joining us via the LIVE STREAM. Simply reserve your spot HERE and you will be right there, just like you're in the room with us. There will be comedy, sketches, crazy stories, poems, music, and more. It will be a blast, and I hope you make it, wherever you are!
In Episode One we will explore Van Gogh's severed ear, artificial cranial deformation, going through puberty during the cold war, and we'll be joined by poet, Zen practitioner, and dancer Brooke McNamara who will read from her new book Feed Your Vow.
Wherever you live, if you have an internet connection, you can join us by reserving your spot on the live stream HERE.
ALSO - I WILL BE PERFORMING IN LONDON FEBRUARY 3RD and 4Th at the PHEONiX : COME ON OUT !
Hope you're all well, and I'll see you at Art Party.