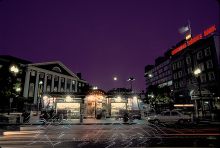 Hi Gang-
I hope your holidays were full of love and fun. I got an Atheist for Christmas, which proves petitionary prayer works.
I am back at it having lots of nomadic mischief in 2013 and I want to invite you to the party - get your dancing shoes on! Get your homeopathic dose of debauchery administered! Get your First Aid Kit out! Get on the phone with Centers for Disease control!
I will meet you at the following places at the designated times for uproariously hilarity and equal measures vulnerable sincerity. Let's take our singulars and make a plural !
Jan 5th - Cambridge, MA / Club Passim
Jan 8th - New York, NY / Mercury Lounge
Jan 9th - Wash D.C. / Jim Bohanan Show (Nat'l Radio)
Feb 2nd - Beverly Hills, CA / Saban Theater
Feb 7th - Columbia , SC / Tapp's Art Center
Feb 8th - Columbia , SC / Conondrum Music Hall
Feb 27th - New Orleans, LA / The Three Muses
Mar 22nd - Park City, UT / Bistro 412
Apr 12th - Minneapolis, MN / Bryant Lake Theater
Apr 13th - Duluth, MN / Beaner's Central
May 31st - Paonia, CO / Blue Sage Arts
Jun 1st - Boulder, CO / Shine
Jun 8th - Cleveland, OH / Kennedy's Theater in Playhouse Square
Sep 7th - Thompson, ND / Muiderman Theater