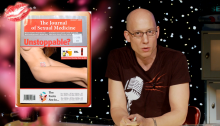 Hi Friends,
Stuart here. Thank you SO MUCH to the early supporters of my new Patreon Page. Patreon is an amazing site which allows you to become patrons of your favorite artists. Your support on Patreon makes a huge difference, and allows me to keep creating new videos, post things like Sex, God, Rock 'n Roll, and make new music. My supporters get exclusive stuff each week, and access to whatever I'm doing before anyone else. Learn more with this quick vid:
Also...
Here's a new video of a classical guitar piece I recently wrote.
And, as promised, here is the full EPISODE TWO of Sex, God, Rock 'n Roll, for FREE !
In this episode : Stuart reflects on how his concept of God has changed at each stage of life. - A virgin auctions off her vagina. - Nepal's boy Buddha needs a burger, stat. - Who would Jesus do? - Plus, exorcism with an iPhone.