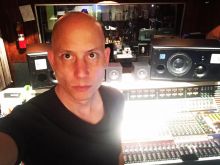 Your definition:
Divination by boiling an ass head
http://phrontistery.info/divine.html
Song:
Hi Friends !
Stuart Davis here. Hope this finds you well. It's been a while, so I wanted to share five things and catch you up.
1, In January I signed a development deal with a Film Production company in L.A. called 5-HT2a. They acquired the rights to three of my projects (two films and one TV series) and are now developing them further. Part of that deal is one movie in particular (working title Mantis) which I will be directing. The plan is start principle photography this fall, in Colorado. The movie is a Paranormal-Psychological Thriller about a pregnant victim of human trafficking who escapes and rallies to free others. It's a pretty intense, fucked up tale, kind of a 'Malick meets von Trier' in tone. I am sharing regular and in-depth updates on the 'inside' experience of this entire process, from day one, exclusively for my Patrons on Patreon. If you want to get the top secret details as I make my first feature film, become a Patron over there and basically it's like Skull and Bones for Hollywood. Or something.
2, I do have new music coming out this year. The album (as yet untitled, any ideas?) includes new, full band versions of songs like Chow Down, Inventions, Innocent Three Way and also new tracks you may have heard me play on tour, like Lamps. Again, I'll be sharing all the songs first and exclusively on Patreon. and the album will come out to the general public this summer.
3, The artist we signed to my label- Jasmine Karimova- also has her debut coming out this summer. It's an incredible collection of songs, I am biased but I can tell you without equivocation I think she's one of the most talented artists of her generation, and I could not be happier I got to produce and release her debut.
4, Jasmine is potentially starring in the lead role of the feature film MANTIS. Follow that story closely on Patreon.
5, House of Davis, our TV series is up and available to watch on Conscious2. It's free for two weeks, you can sign up and binge watch at no risk. There is an hour-long episode (Episode 3) dedicated to the making of Jasmine's debut album this summer, and it is really moving and fascinating. Check it out.
more soon and KOSMIC HUGS !!!