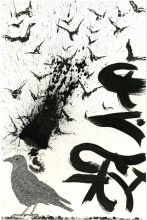 Hello, it's Stuart.
I hope this finds you all well. I have five fun things to share with you.
#1. we've posted a new music video to the song They're Already Here from Music For Mortals, directed by Joe LaMattina. Take a look!
#2. big thanks to everyone who came out to the UK shows, and my most sincere apologies to the folks who were at the Edinburgh show...
I was stopped at the border in Scotland (no joke) and told I did not have proper work permits to perform in Scotland, and so was informed if I performed I would be banned from re-entry for years to come, etc. Left me little choice, but I understand there were people who promoted the show (thank you!) who came out with friends, and were waiting because they didn't get the news. I am really sorry. I will try to make it back this year, with the right paper work in place.
#3. I'm thrilled to unveil a new series of crow paintings we have up on SD.com They are full res, giclee prints. Only a handful in existence, so they are special and exclusive. Take a peek, and also you can see the full exhibit along with notes from professor Michael Schwartz, over at Integral Life.
#4. The final show of the Music For Mortals tour will be in Gent, Belgium. Send your Belgian pals, or hop on a train or plane and catch it for your self.
I won't be touring for a while, but I do have lots of new things coming out soon, including a new solo acoustic album, and an entirely new band project (to be revealed soon), and last but not least... new comedy videos!
#5. Remember the film Walk of Shame comes out this March, stars Elizabeth Banks, directed by Steve Brill, and features a new Stuart Davis song, aptly titled... 'Walk Of Shame'
Big hugs,
Stuart