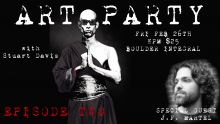 Hi Friends, Stuart here-
Art Party's debut was a sellout success! Tickets are now on sale for Episode Two, to be recorded live on Friday, February 26th at The Integral Center in Boulder. Join us as we explore the artists who invent their own genres, and the perils of their dicey endeavors. Plus, we look at the long and lugubrious link between depression and creativity. We will also track one American Family's attempt to integrate into Dutch culture. Our special guest will be J.F. Martel, author of Reclaiming Art in the Age of Artiface. All that and a mystery music guest. Get your tickets early, seating is very limited.
Art Party is a variety-format podcast, recorded before a live studio audience at the Integral Center in Boulder Colorado, featuring original comedy, story-telling, sketches, music, and interviews with artists.
Season One will record monthly from January through June of 2016. Seating is very limited, live audiece tickets are $25. Each episode of Art Party will run about an hour with segments ranging from short sketches to in-depth stories.
Episode One: Friday, January 22 8PM
Episode Two: Friday, February 26 8PM
Episode Three: Friday, March 25 8PM
Episode Four: Friday, April 22 8PM
Episode Five: Friday, May 20 8PM
Episode Six: Friday, June 24 8PM
Tickets are now on sale now, GET THEM HERE.
ALSO- I'm offering guitar lessons via Skype now. $30 a half hour. Email me at Stuart AT Stuart Davis dot com to schedule a session.
Hope you're all well, sending big hugs !
Stuart