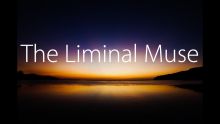 Your definition:
Occupying a position at, or on both sides of, a boundary or threshold
https://www.theliminalmuse.com
Song:
Hi Friends,
Stuart Davis here. I hope this finds you all well in these bizarre and challenging times.
Like everyone, I've been migrating my work to more quarantine-friendly enterprises. I've been spending more time offering one-on-one sessions with people around the World, using Zoom and Skype. As a natural progression from that, I'm happy to announce the launch of The Liminal Muse. This new site is dedicated specifically to my spiritual & transpersonal hypnosis work with people finding themselves at critical boundaries and cross-roads. The Liminal Muse is a unique integration of creative and contemplative paths toward attaining lasting change in your life. To book a session use the contact form on the site.
I'm also excited to share Aliens & Artists, a new podcast which explores how contact with non-human entities impacts human creativity. We are about fifteen episodes in, and the response has been tremendous. I highly recommend checking it out. Please subscribe & review if it strikes your fancy.
As always, all my new material is shared on Patreon first, and much of it is only shared there. My patrons have access over 130 videos, songs, interviews, many of which will never be made public. I add new stuff several times a month.
Cosmic hugs,
Stuart