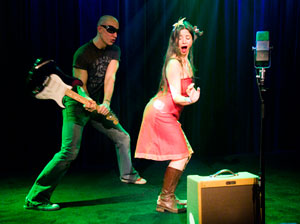 Stuart Davis is all about the hyphens: Writer-Director-Actor-Comedian-Songwriter. Naturally, Stu's debut television series Sex, God, Rock 'n Roll allows him to play in myriad ways. His day job has always been rock 'n roll. Having performed thousands of shows and released 14 albums, Davis is a pillar of the showbiz carnival. But in the past few years he's been branching out into other forms of fun. Combining original songs, comedy sketches, and monologues, Stu's tv show is a mosaic of mediums that suits his multi-faceted passion.
Razor-sharp improv. Lurking amid the minutiae of his observations on life and the Universe are some startling insights. Davis pulls off the most elusive of party tricks...Even the gods were grinning. - Irish Times, Dublin Ireland
Filmed before a live audience in Boulder, Colorado, Sex, God, Rock 'n Roll is a blend of edgy comedy and original music. Davis has made a genre-busting career of delving difficult subjects, and makes no exceptions here. With his trademark synergy of sacred and profane punchlines, Stu takes the audience through a circus of sexuality, spirituality, and showbiz. In Stu's Universe horny is holy, funny is profound, and Love has no opposite. Davis twists mind, body, & spirit into a hot menage 'e trois. It's no wonder he's long been known as the Twisted Mystic. As Stu sings in his hit Deity Freak: Party like a pop-star, make a lotta love, detonate the Deity, keep it feelin' freaky...
Without exaggeration, Stuart Davis is one of the most fascinating and exceptional songwriters in modern music. - San Jose Metro
Davis may be the best songwriter you've never heard of. - Des Moines Register
Not since Bob Dylan burst through has Minnesota produced such a confident and creative songwriter and social observer. - Minneapolis Star Tribune